Dust Free Tile & Flooring Removal
Others promising "virtually dust free tile removal" know they can not promise what our team at Red Rock Flooring is capable of doing – delivering dust free tile flooring removal results each and every time. We are the ONLY team in Utah that can offer true dustless flooring removal under a patented and proven system. We utilize advanced, patented, proprietary technology to ensure the capturing of silica dust from every phase of tile floor removal, including all other types of flooring removal. For wood floor removal, we set containment barriers and run HEPA air scrubbers during demolition of wood flooring. Our team is highly skilled and experienced in all types of floor removal and the most efficient processes.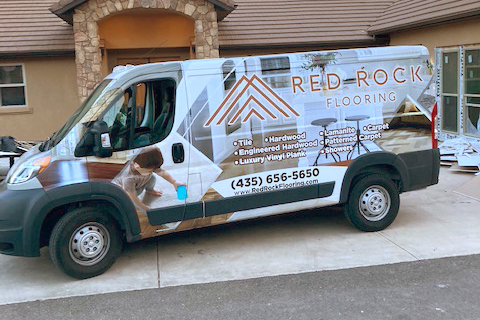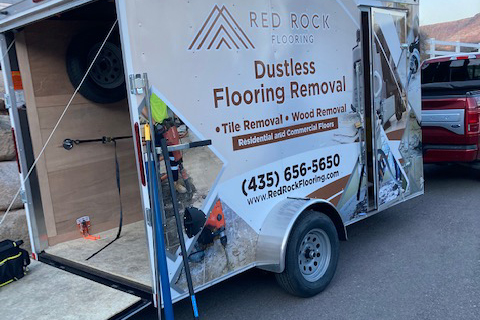 What is silica dust?
Silica dust is made up of small particles that become airborne during various work activities including cutting, drilling, chipping, sanding, or grinding materials that contain crystalline silica. These materials can include sand, concrete, brick, block, stone, and mortar. Silica dust is so fine, that when brought airborne it is extremely hard to clean up after properly. When people breathe silica dust, they inhale tiny particles of the mineral silica. Over time, the silica dust particles can cause lung inflammation that leads to the formation of lung nodules and scarring in the lungs called pulmonary fibrosis. Many people who choose dustless flooring removal, do so to protect themselves, their family, pets, employees, and customers from inhaling dust.
Patented Dust-Free Removal System
Our proprietary dust free removal system removes ceramic or porcelain tile, natural stone, vinyl and adhesives faster than traditional methods. We finish your project quickly because we don't spend time hanging and removing ineffective plastic sheeting. Our equipment is industry proven and specifically designed for dust free tile and flooring removal projects. Our experienced crews have been using this method for years so your project will be completed cleanly and efficiently with the right tools in the shortest amount of time possible.
The Process of Dust-Free Tile Removal
As leaders in the dust free tile removal industry, Red Rock Flooring uses industrial grade HEPA vacuums, custom tools, and a unique removal process to capture the dust as it is created. By doing this we avoid a very dusty, dirty mess left behind and leaving the job dust free. Traditional tile removal creates harmful silica dust that will settle on your ceilings, walls, furniture, and draperies. It will also infiltrate your closets, cabinets, air vents and ductwork. As you move about the home or run your HVAC, it will continue to spread for weeks or months as the air flows. Cleaning after will make no difference if dust free flooring removal is not carried out properly. When you choose Red Rock Flooring, you can be assured of a dust free tile or floor removal and that our custom equipment and knowledgeable staff will leave your home much cleaner with no lingering dust to take away from enjoying your new beautiful floor.
Contact Red Rock Flooring today for a free consultation on dustless flooring removal!